Do You Pay Attention to Tractor Safety?
Tractor safety. Not always the first thing that comes to mind when you're planning the day's outdoor chores. In fact, it's easy to forget that agriculture is one of the most hazardous industries out there. Farm workers, and even folks with small acreages who love to manage their land, are at very high risk for serious or fatal injuries.
Farm machinery causes more fatalities on U.S. farms than anything else. Tractor-related injuries top the list, with most deaths occurring from roll-over accidents. Here are some things you can do help keep safe while you're working with your tractor.
No Such Thing as Fashion on a Tractor
One of the most dangerous parts of your tractor is the PTO (Power Take-off Shaft). The PTO runs at 13 revolutions per second. Anything
that gets tangled in that is going to be drawn right into it. Your hair, your beard, shoelaces, floppy pant legs or any kind of straps can get tangled in a power take-off shaft. A human being cannot stop a functioning PTO shaft, and it will end badly. The tractor's no place for fashion. Tie up your hair, wear snug clothing, forego jewelry and pay close attention. Never step over the PTO, even when it's not running. It's a really good habit to get into.
Lights and Weather Protection
If you have to work as it's growing dark, you'll need to use your lights. And most tractor lights are poorly placed, reflecting off the front end loader and not giving you much illumination behind. We have a solution for that – the Roll Bar LED lights. Safe and bright, so you work after dark and still get home safe.
And if you get caught out in a storm, or have to work under a hot, relentless sun, you'll want to think about adding a tractor canopy. It's easy to get overheated in the summer, which can make you rush your tasks, or cloud your judgement about risks. And a sudden downpour or thunderstorm can do the same. We stock the very popular and easy to install RhinoHide Canopy. Comfort AND safety for your days working around the acreage.
Mind The Hills
First rule of hills: slow down. The second rule of hills: slow down. You get the picture. You can generally navigate slopes at a slower speed. If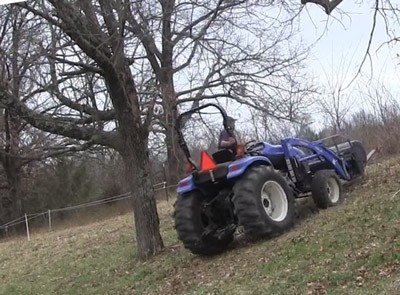 you go fast enough to get the tractor bouncing, it's going to do things that you don't want it to do.
And always keep the center gravity as low as you can. Riding with a front end loader? Keep it low, because that will help keep the center of gravity closer to the ground. If you have equipment behind you, try and keep it on the uphill side to give you a little extra weight to transfer to the tractor.
If you're tackling a really steep slope, you might even want to back down the hill if your loader has a really heavy load. You always want to keep the most weight of the tractor on the back wheels.
Finally, make sure the tractor is properly ballasted.  That can be fluid in the tires, wheel weights, a ballast box or a combination of the three.  I'm a big believer in fluid in the tires because it keeps a good part of the weight down low.  My favorite fluid is Rim Guard, beet juice tire ballast which has multiple advantages.  It won't freeze down to -35 degrees, it won't rot out your rims, it won't kill your dog if a little happens to leak out and gets lapped up and IT'S HEAVY…11 lbs. per gallon, so you get the maximum amount of weight.  Ask your tractor dealer or tire company to put Rim Guard in your tires and you'll greatly increase slope stability.
Know Your Property
If you do tend to drive a little fast, it's easy to drop into a hole where a stump has been taken out, or something like that. If it's on the downhill side you can roll a tractor. So part of safety is being familiar with your property, and knowing where the hazards are. Flag them for yourself if you have to. And if someone else is going to be working around your place, that's a must.
Other Risks
There's haste and fatigue and poor maintenance. Alone, they can be trouble. Now put them together: you've got a lot to finish before the weather turns off, or you run out of time. The tractor breaks down and you need to fix it in the field. You've worked a full day and you're tired and just want to get done. How many dangerous mistakes might that cause? Plan enough time to do the job and keep the machine completely ready to go. Your safety depends on it. And here's another safety tool we highly recommend: Tractor Loader Cylinder Safety Stops. These metal stops let you lift the loader and keep it safely out of the way while you work on the engine. You can take them with you in your Tractor Caddy  for extra safety during emergency field tractor repair.
Road Trips on Your Tractor
You often see tractors out on rural roads during planting and harvest seasons. Tractor operates always need to be aware of the other vehicles, and take special precautions to prevent collisions.
And for best safety, conduct a pre-ride inspection on the tractor and any implements you may be towing before every time you head out on a public roadway.
Your checklist:
Make sure you have plenty of fuel.
Check that all lights and signals work properly.
Adjust your mirrors if you have a cab.
Be sure to have a slow-moving vehicle (SMV) emblem on display.
Living on the land can be a satisfying and pleasurable lifestyle. Keep it that way by staying safe.