Best Aftermarket Tractor Canopy
The RhinoHide ROPS canopy is made from UV protected high-density thermoplastic Ethyline (HDPE). You've seen this material before, in things like tough roadside traffic barrels, and you probably know what a beating those barrels take!
The Rhino canopy is simply unbreakable, with no cracks, dents or fading, and is less costly than aluminum, steel or fiberglass tractor sunshades.
It's the first universal tractor canopy that is tough, affordable, and easy for one person to remove from the tractor (and replace it when you need to use it). It fits any tractor brand as well as zero turn mowers, too.
Tractor Canopy Price Includes FREE FREIGHT to the Lower 48 States!
This tractor canopy for sale is the first universal tractor canopy that is tough, affordable, and easy to remove from the tractor.  It'll fit any brand of tractor and, as you'll see in the gallery, it works quite well as  a zero turn mower canopy, too.  Freight to the lower 48 states is free, regardless of how many canopies you order.
Introducing the RhinoHide Tractor Canopy
Tractor Mike: "I've always wished my tractor had a canopy but since I operate in the woods a lot of the time and would tear it up on limbs, that's not been an option…until now!"
This RhinoHide tractor roof  canopy greatly reduces the temperature of the operator area and protects your tractor seat from the sun. It also  minimizes your risk of skin cancer and keeps you from getting soaked in a rain storm.
Unlike other tractor canopies, each RhinoHide removable tractor canopy is made from HDPE, which means they'll bend but won't break. This tractor ROPS canopy will fit virtually any roll bar up to 42″ wide (brackets for roll bars 42-46″ wide are available on request) with mainframe beams up to 2 1/4″ by 4″  and can be mounted on angled roll bars. They'll also fit a zero turn.  While this is basically a universal tractor canopy, unfortunately, it won't fit machines with round ROPS structures.
This tractor sun canopy comes in black only and can't be painted. They're 37″ wide by 45″ long and the shell itself weighs only 14 lbs., the total shipping weight, with hardware and packaging, is 34 pounds.
All  You  Need to Do Is Drill A Few Holes in the Mounting Kit/Shell
Now, having sung the praises of the RhinoHide canopy, let me point out there is just a little bit of work in the beginning to get the canopy mounted.   Because it's designed to fit  ROPS structures up to 2 1/4" x 4" x 42" wide (MEASURE BEFORE ORDERING), you do have to drill six holes when mounting it.  Two holes in the brackets and four in the canopy and it's on.   NO HOLES ARE DRILLED IN THE ROPS STRUCTURE.  If you're concerned about having the mechanical ability to put it on, watch "Canopy Don" and me put one on my tractor in the above video.
You also need to note that while the ribs add strength to the canopy, they can pool a little water.  When parking your tractor outside you may want to park on a grade. Or simply release the pins and empty the water from the canopy if the tractor was parked outside in rain.
---
---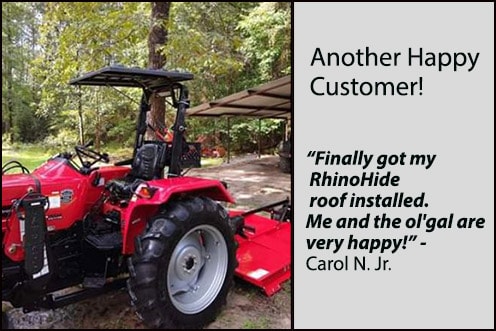 ---
Why Choose a RhinoHide Canopy?
If you've  been looking for a tractor canopy for sale, then you probably already know that these tractor sunshades come in a number of different styles and colors, made by lots of manufacturers.
We spent months determining which tractor shade canopy was best, and the RhinoHide came out the clear winner. Why?
For openers, the RhinoHide canopy is not a canvas umbrella or a hard metal tractor roof. It's a flexible tractor sun shade that's strong and durable.
Canvas tractor umbrellas are flexible, it's true. But while they may be water resistant, canvas does show wear from weather over time, and umbrellas do need replacement eventually. And if you're working under low hanging branches or limbs, it is possible to snag and rip a canvas top.
Metal tractor canopies, on the other hand, are quite stout and rigid. Aluminum makes a good tractor shade, but it does tend to scratch easily. A steel tractor sunshade is heavier and sturdier, but also tends to scratch and dent. And once the powder coat paint finish is marred, it's apt to rust. It is usually the most expensive aftermarket tractor canopy, too.
Another material used for tractor sunshades is fiberglass. Lightweight and available in a number of colors, this material can be cracked or crushed very easily, and the pigment color fades over time. So as tractor tops go, it's not the best option.
And It's Not Just Me…
In fact, a lot of our customers think this is the best aftermarket tractor canopy they've seen. Check out the reviews to see what users say about this canopy.  If you're looking for a tractor canopy, the quality and convenience of this ROPS sunshade makes it the clear choice!
RhinoHide Tractor Canopy For Comfort and Ease of Use
RhinoHide canopies are great to have in the hot summer months. It's your basic tractor sunshade, a tractor roof. It keeps the operator much cooler and out of the dangerous rays of the sun. Plus, a tractor canopy acts as a tractor umbrella, offering some protection from unexpected rain storms.
But a canopy can be in the way and subject to damage much of the time, especially if the tractor is being used in a tight space or in wooded areas. They also tend to take a beating when facing forward on a trailer moving at highway speeds.
As you can, imagine, a removable top for tractors  could solve those challenges. But past models have been expensive, made of breakable plastic, and way too heavy and bulky to easily remove.
The RhinoHide  Tractor Canopy Has Eliminated All These Issues
The RhinoHide  Tractor Canopy is made of HDPE. That means it is extremely durable and flexible. And it's also light enough for one person to attach and remove from the tractor.  Mount the RhinoHide when you're brush hogging in the summer to keep you cool. Later, easily lift it off when you want to fold your roll bar down. You can remove it to haul the tractor, or when you're headed to the timber to cut wood. Then easily replace this handy tractor ROPS canopy when you need it again. It offers the best of both world, it's both light AND durable.
Finally, here's a word to the wise if you decide to trailer your tractor with any canopy.  Driving down the highway can churn up a tremendous amount of wind resistance, and vibration can loosen the clamping knobs.  If a canopy comes off on the highway it can create a dangerous situation for other drivers and do serious damage that's not covered under warranty.  If you haul your tractor, remove the canopy or put a strap over the top of it to keep it in place.  We want our customers and others on the highway to stay safe!
ATTENTION MASSEY OWNERS!
Some new Massey Ferguson models have an extremely wide roll bar and the standard brackets won't fit.  If you have that system, you can still mount a Rhinohide canopy.  Just note in the comments section when ordering that you have the wide roll bar and we'll send out a back plate/all-thread clamp system that spans that 5+ inch tube steel depth on those tractors.  It's the same cost as normal so you don't pay any extra.
"I really like this canopy! I have had a chance to test its durability on branches and the side of my deck (whoops). It does take some time to install to get it just right but after that it works great. I can pull it off on a nice day in less than 60 seconds but most the time it stays there keeping the snow off my seat! Take your time on the install and look at it a few times with someone else holding it. Fits my Ford 2110 perfectly in-front of the ROPS." – Timothy C, from MA.
Sign Up For Mike's Monthly Newsletter
Tips and Special Offers Right To Your Mailbox Learn About Our Newest Products!