Electric and Mini Small Tractor Grapples
Small tractor grapples include standard hydraulic models and electric Grapples.
Electric grapples?  It's the new thing.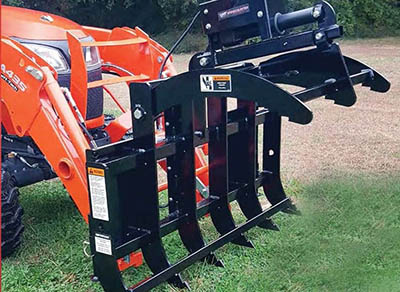 Here you are with downed tree limbs and lots of brush, and a sub-compact tractor  under 32 Hp to do your work. Sure, you've got a front end loader, but that isn't going to get the place cleaned up, is it?
Well, with an electric grapple it can. If your tractor is not equipped with remote hydraulic connections, this attachment is for you.  It uses your battery as a power source, so all you need is a connection your battery.There's no need for you to purchase an expensive diverter, or add a third function valve to your tractor.
Finally, the property owner with a small tractor be able to to clear the acreage easily, with an attachment that exerts up to 1000 lbs. clamping force on trees, brush and debris.
Special Features of the Electric Grapple
This grapple is designed exclusively for sub-compact tractors equipped with a front loader and quick attach. To make things really easy, it comes with a wiring harness and rocker switch that lets you connect right to your battery.
The grapple weights about 247 lbs., and any tractor up to 32 engine HP can make effective use of it.  You'll be amazed at how simple it is to transport brush, debris and trees. And it's available for both universal skid steer mounts and John Deere hook and pin quick attaches.
Tractors Under 40 HP Can Also Use the "Mini" Grapple
If you do have a front end loader mounted remote hydraulic connection, you might consider the Mini Grapple.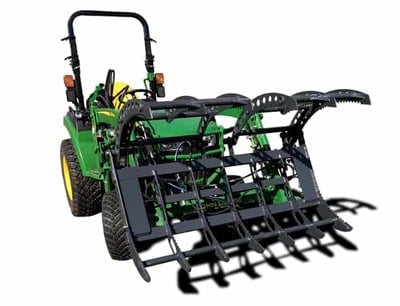 One problem with small tractor grapples is that they seem to take up all of your lift capacity.
The Mini, however, is designed for maximum strength, while providing weight relief wherever it can. It's durable, but still light and maneuverable, thanks to a unique design. The large 36″ opening lets you move a large load of loose material at one time, while the  reinforced 9.5″ tines are spaced to allow for raking material of all sizes while sifting the dirt from the clumps.
In addition, all the concealed cylinders and hydraulics are fully protected. They won't snag on limbs or brush. And the greased pivot points will give your long lasting service.
Four Configurations To Fit Most Compact Tractors
The Mini fits most compacts, and you can match your machine to the proper one. We offer:
A model which features a skid load (aka universal) quick attach with a single grapple
A model with double grapples and universal brackets
A model for John Deere owners which has a single grapple
A model for Deere 400/500 hook and pin quick attach brackets
A model for Deere with double grapples and the Deere brackets
These Mini grapples run between 247 and 259 lbs, depending on the model.
No remote hydraulic connections on your machine? We can fix that with the X-tra Valve Kit.