Fall. Farm and ranch chores slow down just a bit, but when you live on the land, you know there are always things waiting for you to do.
Are you growing crops as a small farmer, managing livestock, or enjoying the life of a weekend farmer? No matter your lifestyle, you know that machinery and tools need maintenance, cleaning, and storage. Fences and buildings need repairs. And if you have a fireplace or wood stove, firewood collection and chopping is an essential task.
Outdoor Chores Need to Beat Winter's Onset
Early Fall is often a time of final harvesting. Garden plots need to have old plants pulled from the beds, and the beds need mulch or a cover crop to keep the soil warmer during the winter months. Fruit trees and cool season grasses need to be planted now, too. If you plant bulbs,

now is the time to do it. And it's always a good idea to fertilize as needed before the winter snow starts to fly.
Some folks have labor intensive outdoor chores—building a rock barrier or fence, grading the driveway, clearing out the pasture invaders before they really dig in. Fall is a terrific time to accomplish your outdoor tasks: It's a bit cooler than during the summer, ticks and other pests are fewer, and the ground is softer than it will be once the freeze sets in.
Time to Winterize Your Equipment
Late Fall is the perfect to winterize your tractor and other machinery, and if you've been putting off minor repairs, now is a great time to do them?  Go ahead and make sure all your tools and attachments are clean and in good working order. While you're at it, you might decide to clean up the shed or workshop and have them ready for indoor tasks during the colder months. If that's on your agenda, take a look at some of the products we carry that can make your job easier:
Radiator Genie – is the best way to clean your tractor's radiator. It's great for year-round use, and extremely handy.  Your tractor's engine needs an abundant flow of cool air to keep from overheating, knock that debris out with a Radiator Genie and your tractor will last longer.
And if your machinery (or tools) got left outside and are showing rusty patches, grab a bottle of Wagner Rust Converter and it'll eat the rust right off of them.
Greasing is a year-round chore, and we recommend the Lube Shuttle system for no-mess greasing. It's especially handy when you're greasing in the shed or barn, and then hanging the grease gun for storage. The Lube-Shuttle won't drip or ooze on your floor, and it's ready for clean greasing whenever you need it.
What About Those Pesty Pasture Invaders You've Been Ignoring?
Late autumn, after most of the leaves have fallen, is the perfect time to pull invaders. With no foliage, it's easy to identify invasive species by their bark and shape, then remove them before their next growth cycle.
Tree trimming is easier after the leaves have fallen and the plant is dormant, from late fall into winter and the same is true of shrubs. In year-round warmer climates, it's still best to prune before spring, when new growth will occur. Cut them close to the ground, apply herbicide to the stumps, and enjoy a clearer pasture in the spring. Note, though, that once the temperature drops below freezing, working will be a lot less comfortable, and your water-based herbicides may freeze. Plastic containers can also become more fragile. Pick a sunny day in the 40s and your work will be a lot more pleasant.
Tree Shears, Trimmers and Pullers
One thing I've learned over the years is that trying to remove stubborn trees like thorny locusts, Autumn Olive and cedars means a battle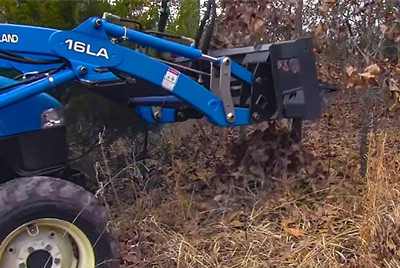 ending in torn clothes and bloodied arms, as well as a dull chain saw. I highly recommend you consider using a Mini Clip front end loader mounted tree shear instead. Built for a compact tractor, these shears will make your work so much easier and more pleasant.  You can also use it for pruning limbs while never leaving the tractor seat.
And if you're ready to just yank those troublesome trees right out of the ground, you might want to invest in the Gator Tree Puller. Clamp the vegetation, pull it up, and just haul it right off to the brush pile. (You can also use this attachment to pull up posts and stakes, and even move large rocks.)
A Quick Pruning Guide
Trees are best pruned while dormant. Conifers, such as pines, spruce, fir, larch and juniper, should be pruned from November to January.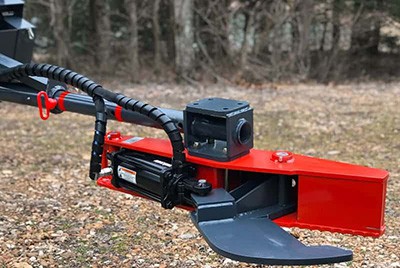 This is also true for deciduous trees (oak, maple, beech, birch and elm, for example.) Once their leaves have all fallen, they have entered dormancy.
Flowering trees need to be pruned when dormant, or immediately after flowering is complete in evergreen varieties. Some trees bloom when they are leafless, and they are best pruned after flowering as well. Flowering trees include dogwood, fruit trees, hawthorns, lindens and magnolias.
A Final Thought about Managing Your Acreage
Maintaining acreage can be a big job, but is there a better way to maintain social distancing and get exercise and fresh air?  Time spent on a tractor or in the shop helps maintain mental health, especially through this tough year that we're going through.  Never a day goes by that I'm not thankful to be blessed to have the rural lifestyle that allows me to enjoy the outdoors.  Happy Fall everyone!