Add-A-Grapple Changes Everything
Grapples are a tractor owner's best friend when it comes to moving brush, debris, logs, rocks and other bulky material that you might otherwise have to haul by hand. The Add-A-Grapple is the economic alternative.
There are a lot of these products on the market. Many of them are stand-alone attachments that work incredibly well. But they may be a little bit of a budget-buster for the small farmer or the rural lifestyler on small acreage.
Instead, Buy This Attachment
Tractor Mike recently spent some time with the owner of Precision Manufacturing, Sedalia, MO, the company that introduced the Add-A-Grapple, discussing the product. This handy tool turns your tractor bucket into an inexpensive grapple. The company builds models that fit subcompact, compact and utility tractors.
The Add-A-Grapple is a device that mounts on the sides and top of the front end  loader bucket (see my installation video here) and requires drilling a few holes.
Of course, not all tractor buckets are the same size. To address this, the Add-a-Grapple comes with telescoping ends that go from 60-79 inches. It has a 39 inch opening when fully open, allowing for easy pickup of thick limbs or big brush piles.
Single or Double?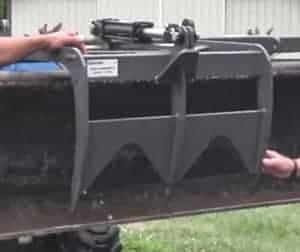 There's a Single Add-a-Grapple that sits in the center of the bucket, or a double version, that covers more of the bucket area. Bought a single and find you really should have chosen a double? The frame is designed so you can just add a second single grapple and have a double, after all. When you buy the Double Add-a-Grapple  the hoses are included. You will have to purchase hoses and fittings for the singles separately. These add-ons are needed to direct the hydraulic flow to the grapple. Most farm and home store carry these.
The Mini Add-a-Grapple was designed exclusively for compact tractors. It fits buckets 36 inches to 55 inches wide. Like the other Add-a-Grapples, it requires that you drill a few holes. You'll also need to install a hydraulic valve kit if your tractor is not equipped with front bucket remote hydraulic connections. This problem is easily solved by ordering the MP020 X-tra Valve Kit.
See All The Add-a-Grapples Here
Using the Add-A-Grapple
When you go to scoop up a dirt pile with your bucket, you tend to keep the bucket level. But with the Add-A-Grapple you'll need to tilt the bucket a bit. That way, the grapple can snag the limb or whatever you're grabbing, and scoop it into the bucket. Tilt the bucket back a bit, and you're good to go.
I personally spent some time working with the Add-A-Grapple. I was able to pick up a rock, some fence posts lying around the place (tee posts and round posts), and a freshly fallen limb that I noticed on my way out of the woods.
The Add-A-Grapple is a real time saver if you don't like changing implements, or don't have a quick attach adapter for the front of your tractor. If you have a loader bucket on the front on your tractor, adding this handy attachment  gives you the instant tool you need for grabbing and moving all sorts of bulky, heavy and awkward loads.
Admittedly, it's not going to be the best solution for logging, or daily heavy use. But for occasional use around your acreage, it can't be beat. You'll save the money a full grapple would cost. And you'll save time and wear and tear on your body when you don't have to haul things by hand or with a wheelbarrow.