Please Note: Many of the Add-A-Grapples may require as long as 60 days or more to build and ship due to supply chain issues. We apologize for the inconvenience and are working with the factory to reduce future lead times.
Add-A-Grapple Single
Model: 111100
Weight: 142 lbs
FEATURES:
Easily Converts Front End Loader Bucket Into A Tractor Grapple Bucket
Fits All Buckets 60″ To 79″ Wide
35″ Grapple Opening
Curved Teeth With Wide Grip Means Easy Release Of Material
Grapple is Removable For Bucket Only Applications
---
"I don't have a quick attach bucket so I purchased this and it is the best money I have spent.  I just purchased enough hydraulic hose to reach my rear remotes and plastic tie the hoses to the bucket while using it.  I just figured out I can pick up two small bales of hay at a time and I think I can pick up three if I'd purchased the other grapple.  I highly recommend this product." – T.F.
Sign Up For Mike's Monthly Newsletter
Tips and Special Offers Right To Your Mailbox Learn About Our Newest Products!
This compact tractor grapple  is designed as an add on grapple for buckets between 60″ and 79″ in width. This add on grapple attaches to the sides of the front end loader bucket and requires drilling eight holes. This is an easy and affordable way for compact and utility tractor owners to be outfitted with a grapple. This unit is recommended for 50 hp tractors and under. The grapple portion can be removed for loader work while the mount stays in place.
Not big enough? How about a Double Add-A-Grapple?
NOTE: Single Add-A-Grapple Does Not Come With Hoses And Fittings…lengths of hoses and type of fittings vary so they're not included in this kit.
ALSO NOTE: The Add-A-Grapple requires hydraulic flow to function. If your tractor is not equipped with front bucket remote hydraulic connections, they can be added to most loaders by ordering the MP020 X-tra Valve Kit.
Click Here For Info On The Hydraulic Valve Kit – Allows The Use Of A 3rd Function Such As A Grapple
---
---
"Hello Mike,
I've had my Precision Add-a-Grapple in service for a good 2-1/2 years now.
If you remember, my first job with it was using the bucket to slice up a sod layer and roll the sod piles into the bucket with the grapple. Wow, I was elated on how I was able to stay in the tractor seat and get the entire yard done without manually handling the sod.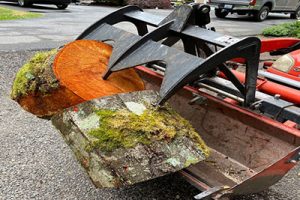 Well, I have racked about three hundred hours using this grapple. It does very well with my little BX Kubota. Collecting and moving yard waste and brush and most recently finished a job taking down two red alder trees. This grapple just loves gripping 6-8' long alder logs and loading into my dump trailer. I have come to the conclusion that this grapple has allowed me to stay in the tractor seat and saved my 65-year-old back.
I really like the design with the grabbing picks of the grapple too. Somebody who uses tractors must have designed this. It makes it easy to approach and grab firewood rounds. As far as the utilitarian aspect of the attachment with a pin on bucket, this add-a-grapple is without a doubt the best tractor attachment on the planet earth.
Best money I've spent.
Cheers to you and Precision."
Steve S. – Gig Harbor, WA