Double Add-A-Grapple
Model: 112200
Weight: 300 lbs
FEATURES:
Converts A Common Tractor Bucket Into a  Tractor Loader Grapple Bucket
Fits Loader Buckets 60″ To 79″ Wide
Hoses Included With Cylinder Guards And Hose Guard, Hose Wrap And Couplers
Curved Teeth For Wide Grip And Easy Material Release
35″ Grapple Opening
Double Add-A- Grapple Can Be Removed to Convert to Bucket-Only Applications
Sign Up For Mike's Monthly Newsletter
Tips and Special Offers Right To Your Mailbox Learn About Our Newest Products!
If you have to remove brush, but you don't want the expense of a grapple, or don't have a quick attach bucket, here is your answer.  Convert your tractor loader bucket to a brush removing machine with the Double Add-A-Grapple system. This add on grapple can be installed by drilling four holes in the end of the loader bucket and connecting hydraulic hoses. The double grapples allow for picking up smaller loose material and will also clamp down on an uneven load.
The package includes all hoses and skid loader-compatible FLAT FACED COUPLERS…if you have different fittings on the front of your loader, please let us know when ordering so we can accommodate your set up.   Enhance the versatility of your loader bucket with the Double Add-A-Grapple!
---
HOW TO DETERMINE WHAT HYDRAULIC COUPLERS TO ORDER
Consult the chart below to determine your hydraulic connections. There are two types generally used in tractor applications, Pioneer and Flat Face.
Pioneer couplers have either a ball, or a tip in the male portion that must be pushed back to attach.  Flat face couplers, commonly used on skid loaders, do not have any protrusions.
Each type comes in at least 3 sizes, and in order to send the right ones with your new attachment, we'll need to know what type and size are on your tractor.  We also need to know whether you have one male and one female, two male, or two female couplers.  Add This Information To The 'Order Notes' Section Of The Checkout Page.
Without this information we cannot guarantee that our attachment will connect to your tractor.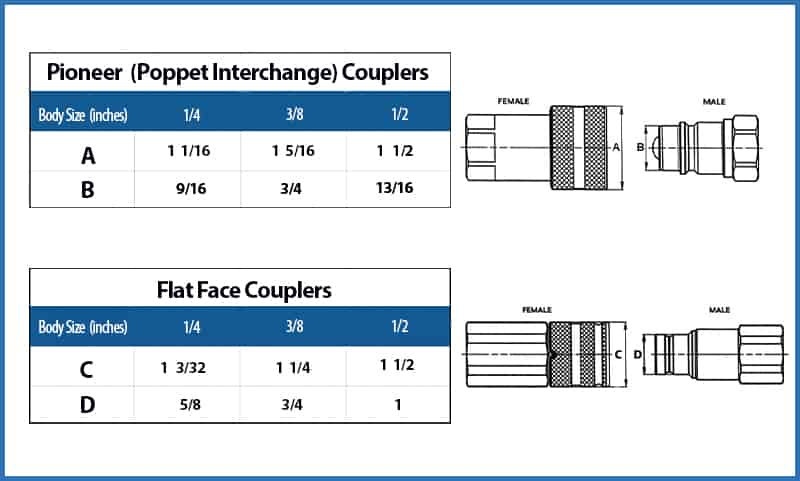 ---
All products have been carefully manufactured and tested. Should this tractor grapple prove defective, or appear to be, please discontinue use immediately and contact us. Not responsible for any damage or claims beyond the selling price of the product. No returns allowed without express written consent of company.