Pat's Easy Change Quick Hitch
Pat's Quick Attach
Some folks call it Pat's Quick Hitch System. Some call it Pat's Easy Change. Either way, Pat's Easy Change system is patented. Don't be fooled by cheap 3 point quick hitch imitations!
Here's a 3 point quick attach system that is truly universal. No other system has the set screws and u-bolts for stabilization. Pat's easy change quick hitch for tractors comes with shims to adjust the Pat's quick hitch when attaching it. Our spring loaded latch system is the only one like it available on the market.
Plus, our product is made of quality hot rolled cast steel, and made in America. If you want to know how strong they are, the hitches were stress tested and hook broke on the category#1 at 24,000 lbs.  The cat#2 held to 41,000 lbs. before the hook gave. There is nothing that your tractor can handle that a Pat's hitch can't.
Sign Up For Mike's Monthly Newsletter
Tips and Special Offers Right To Your Mailbox Learn About Our Newest Products!
The Three Point Quick Hitch You Need!
Looking for the magic formula to make hooking up three point implements easier?
Here it is! Pat's Easy Change Quick Hitch  is an "eagle claw" attachment that goes on each of the lower link arms – the system you see installed on a lot of larger tractors from the factory.
To attach an implement, just back up under the pins, lift up the three point lock the keepers, and you're hooked on, except for the top link. Hop off the seat,  put the top link on (and the PTO is equipped) and you're good to go! This tractor quick hitch will save you time and effort. When you want to unhook, just move the keepers to the side, pull up up the links and lower your three point. It's that simple.
Pat's 3-point quick hitch system has a rod available that keeps the lower link arms at the correct width when backing up.  If you have multiple implements you'll want to put a mark on the rod for each one. That way, you can set the correct width for the implement before backing up. Before ordering this Pat's quick hitch, determine what category size your lower links are.  They're offered in both category I or category II configurations.  There are also options for folks with category II tractors with category I implements (and vice-versa).  Measure your tractor's lower three point arm ball holes to determine the category you need,  7/8″ requires category I  quick hitch, and 1 1/16″ is category II.  The price includes the full set of Pat's Easy Change claws, both the left and the right side are included in the price.
You can easily install Pat's easy hitch system in about thirty minutes. You'll be impressed by how secure this tractor quick connect system is when mounted properly.  It's one of those products that will make your tractor-owning experience a lot easier.
---
Three Point Quick Hitch Comparison: Pats' Easy Change vs Speeco/Worksaver

---
Pat's Easy Change Installation Tutorial

---
"Hi Mike,
I'm not sure you could hear all the way in Missouri when I sung your praises yesterday afternoon. I had just backed my three-point hitch right up under my brush hog, raised it up, and click. I attached the top link and off I went. It was especially welcome given that all I wanted to do was move my brush hog about 10 feet. It was incredibly nice not to have to fight with the whole thing for 30 minutes." Paul S., MA.
____________________________________________________________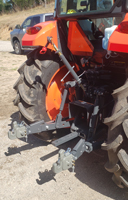 TM, just finished putting cat2 Pats on my Kubota 7060. Just as simple as when I put them on my 550 Oliver a year ago! I really like these, I'm 68 years old and hooking up my 3pt stuff is a breeze now. Thanks for the suggestion and help! Rich B., Michigan.
______________________________________________________________
Two Sizes Available
We offer both Pat's Cat 1 Quick Attach and Quick Hitch Cat 2.
Determine the size you need and then order either the Pat's Quick Hitch Cat 1  or the Pat's Quick Hitch Cat II.  NOTE:  If the tractor has lower link arm balls that are both Category I and Category II (many Mahindra models have this option), order Pat's Category II or Category II (tractor) to I (implement) models.  Category I Pat's Easy Change won't fit because of the width of the balls.  Category I has an opening of 1-1/2" and Cat II is 1-3/4". Some Category II tractors have narrow balls and will fit in the Cat #I receiver, but most of the time not.
"We think it's the best 3-point Quick Hitch," Tractor Mike says, "when you're looking for the quickest and most pain-free way of changing three point tractor implements."
NOW AVAILABLE IN THE U.K.!
We are now an authorized dealer for the United Kingdom.  If you reside in the U.K. and want to purchase a Pat's 3-point quick hitch, e-mail mike@asktractormike.com and I'll be glad to get you freight rates directly from the factory.
ONE THING TO NOTE: Pat's Easy Change will set the attachments used on the tractor back 4″.  In most applications that won't matter, but the further rearward placement may require purchase of an extra-long top link and/or extending the PTO by installing a longer shaft or using a PTO extender.  It's impossible to predict if this change will impact your application, but if it does, we can't cover supplying the extra components to adapt the top link or PTO shaft and make the Pat's Easy Change function with your implements.  I apologize in advance for any extra expense/stress this causes.
And while you won't need to carry tools to work on the Quick Hitch, you probably like to keep at least a few handy tools and odd parts in the tractor for emergencies, right? If you're looking for a convenient place to stash them on your tractor, take a gander at our Tractor Caddy. 
Additional information
| | |
| --- | --- |
| Weight | 35 lbs |
| Dimensions | 18 × 10 × 6 in |
| | Category I (7/8" holes), Category II (1 1/8" holes), Category III (1 7/16" holes), Category I (without stabilizer), Category II (without stabilizer), Category III (without stabilizer), Category I to II (tractor is I, implements are II), Category II to I (tractor is II, implements are I), Category I to II (without stabilizer), Category II to I (without stabilizer) |