Why Doesn't My Tractor Have a Quick Attach Face Plate?
New to country living?
If you've purchased your first small tractor to keep your acreage looking nice, you may be surprised how limited you are in your work because it doesn't have quick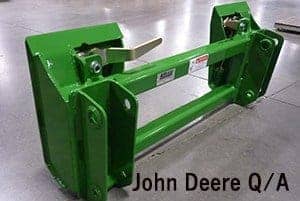 attach.
What Is Quick Attach?
A quick attach plate is a device located on the front end of your loader that allows you to easily release and change attachments.
It might be the John Deere "hook and pin" type, using a couple of lynch pins to hold everything in place. Or it might be  one of the skid-steer systems (aka universal systems) that most tractor makers now use.
With the skid-steer option, anything that fits a skid loader will fit your tractor. It's usually two levers (but can be one) that raise a couple of latch pins which hold the bucket into place.
But What If Don't Have Any System for Quick Attach?
If your tractor has no quick attach system, you may wonder why you were left out and if there are any options.
Well, if you don't have a quick attach face plate, you probably have a pin-on set up. Here, four lubricated pins hold your bucket on.  With this configuration, changing from a bucket to a set of pallet forks or bale spike is somewhat of an ordeal.  You drive out the pins and back away from the bucket. Then you get everything perfectly aligned with the attachment you plan to add. And then you drive the pins back in. It's at least a 30-minute job.
Why Would This Be the Case?
Two reasons, really. First of all, the manufacturer didn't offer quick attach.
For example, the most popular compact tractor in North America sold as late as 2007 was a TC30 New Holland with a 7308 loader. And nope, no quick attach option. Many older Kubota, John Deere, Ford and Massey tractor front end loaders also didn't offer quick attach. In fact, some don't offer it even today.
The other reason was that the dealer selling you the new tractor new was trying to eliminate every option they could to get to the lowest price. Quick attach was an option on the loader, but the dealer chose to order the tractor without it. The thinking was that would give them a price advantage over other dealers and help them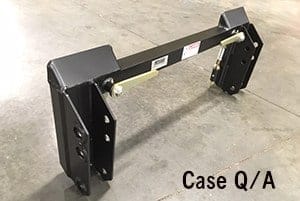 close the sale.
Either way, you're stuck with a pin-on bucket and probably wish you had a quick attach.
Now there may be a way to get quick attach retro-fitted to your older tractor.
Here's How
If you are looking for skid steer quick attachments or quick attach skid steer I offer Quick Attach Adapters (I prefer to call them conversions because once you've converted you can't go back).
More On Quick Attach Kits Here
There are quick attach plates for the major brands: Deere, Kubota, New Holland, Case IH, Massey, Mahindra and Kioti. I also carry some kits for aftermarket loader brands. If you have a Bush Hog, Great Bend, Woods, Quicke, Schwartz, Allied, Hardy, or even the old goofy single cylinder Dunham-Lehr loaders, there may be a conversion kit available.
You can find  quick attach plates for lesser-known tractor brands such as AGCO, Challenger, Bobcat, TYM, Branson and Yanmar on my site.
When you order one of these kits you get a faceplate with skid loader quick attach for the front of your tractor and a weld-on bracket that attaches to the bucket. (You need to take the old pin-on
brackets off first.) And when you're done, anything that fits a skid loader will fit your tractor.
These kits are not cheap: it's not uncommon to spend $1500 with freight to get a new Q/A faceplate.  But they are well worth the investment, because once installed, they open up a whole new world of versatility for you and your tractor.
Additional Adapter Kits, As Well
By the way, additional adapter kits are also available here.  These kits allow you to swap attachments between different types of quick attaches.  For example, if you have a Deere with hook and pin face plate, or if you have a Bush Hog loader with its own unique quick attach, an adapter can allow you to mount skid-loader compatible implements on your tractor.  Many variations of quick attach systems are available.