Please Note: Many of the Mini Grapple Rakes may require as long as 60 days or more to build and ship due to supply chain issues. We apologize for the inconvenience and are working with the factory to reduce future lead times.
Tractor Grapple Rake Double
Features Included on this Tractor Grapple:
50″ Grapple Opening
11 Rake Teeth
6″ Spacing of Tines
1/2″ Rake Material
A36 steel
Double Grapple Model:
333D72SS – 72″ Working (Not Shipping) Weight: 654 lbs.
333D60SS – 60″ Working (Not Shipping) Weight: 565 lbs.
HOSES AND HYDRAULIC FITTINGS INCLUDED ON THIS MODEL.
Each root grapple has been carefully manufactured and tested. Should the root rake for tractor prove defective, or appear to be, please discontinue use immediately and contact us. Not responsible for any damage or claims beyond the selling price of the grapple bucket for tractor. No returns allowed without express written consent of company.
This grapple rake is generally compatible with 35 hp tractors and larger and is available to fit either skid loader compatible loaders or those with 400-500 series John Deere lynch pin attach systems.
If you have a lot of brush to move and want to get the ground really clean with minimal effort when doing it, get the 333 Series Grapple Rake!
Sign Up For Mike's Monthly Newsletter
Tips and Special Offers Right To Your Mailbox Learn About Our Newest Products!
Be Sure To Specify The Correct Quick Attach System When Ordering! This Attachment Is Not Available For Pin-On Buckets!
---
---
Traditional grapples do an adequate job of moving brush piles, but most lack the ability to pick up downed limbs and debris. If you're cleaning up storm damage there'll be lots of getting on and off the tractor seat. Not so with the Double Grapple Rake. A grapple/rake design could well be the best option for getting rid of limbs and/or large brush piles without having to leave the tractor operator area. You can not only pick up a huge load with this product, you can actually rake the ground and pile up individual limbs. The opening when the grapple is fully extended is 50" to accommodate large debris piles; and that's important because the larger the opening the more brush you can load. The Double series is available with double grapples in 60" widths. This is the listing for the 60″ model, see separate listing for the 72″ version.
The 333 Series Grapple Rake is specifically designed for compact and mid-range tractors where weight may be a consideration. It's built rugged enough to move a lot of debris, but not so heavy that it takes up all of the lift capacity of the tractor. When selecting a grapple brush rake for tractor, use this as a guide: the weight of the unit itself should never exceed 50% of the lift capacity of the front end loader.
Rake teeth on the 333 Grapple are reinforced with tine supports for added strength. Cylinders, a hose kit, and cylinder guards are standard for the double grapple models, but must be supplied by the customer on single grapple units. The 333 Grapple Rake comes with its own built-in parking stand making hooking and unhooking very easy. It takes up minimal space in a machine shed, and that's a very huge advantage over grapples with long forks.
HOSES AND HYDRAULIC FITTINGS INCLUDED ON THIS MODEL.
---
HOW TO DETERMINE WHAT HYDRAULIC COUPLERS TO ORDER
Consult the chart below to determine your hydraulic connections. There are two types generally used in tractor applications, Pioneer and Flat Face.
Pioneer couplers have either a ball, or a tip in the male portion that must be pushed back to attach.  Flat face couplers, commonly used on skid loaders, do not have any protrusions.
Each type comes in at least 3 sizes, and in order to send the right ones with your new attachment, we'll need to know what type and size are on your tractor.  We also need to know whether you have one male and one female, two male, or two female couplers.  Add This Information To The 'Order Notes' Section Of The Checkout Page.
Without this information we cannot guarantee that our attachment will connect to your tractor.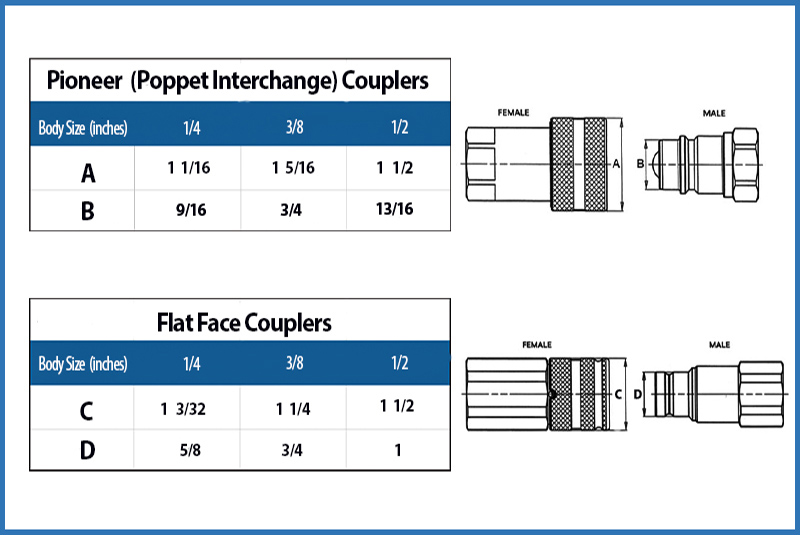 ---
"Mike,
There was a pile of brush that was larger than I thought I could take but I pushed into it, rolled the grapple over top of it until it was fully face down, closed the grapple, picked it up and drove away. It picked up everything in that particular pile, very impressive and very easy.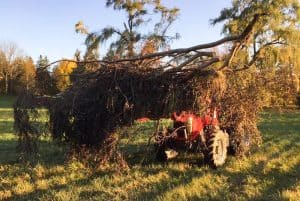 I used it as a rake as well and was surprised how easy it was to keep it level and skimming just above the ground while still picking up relatively small sticks. If you miss one, you can back up, readjust the height and grab it and go. I can see the outer two tines and the parking stands from the tractor seat which make it easy to level it and adjust the height to the ground.
This style grapple clamps small loads as well as large ones. The double grapple does a good job clamping uneven loads which pretty much was all of them. At first I was concerned the grapples were too close together to clamp fully independently but that wasn't a problem in the least. I'm now looking forward to cleaning up the rest of mess on my 40 acres from the microburst we had back in July!
I would like to point out everything you said about this grapple in your video is true. Thank you for your straight and honest feedback in your videos and also for the customer support you provided during the sale and manufacturing of this grapple."
-WG, Phelps, NY
Additional information
| | |
| --- | --- |
| Weight | N/A |
| Dimensions | N/A |
| | 5' Wide, 6' Wide |
| | Skid Loader Compatible, John Deere Hook and Pin |