Please Note: Many of the Mini Grapple Rakes may require as long as 60 days or more to build and ship due to supply chain issues. We apologize for the inconvenience and are working with the factory to reduce future lead times.
"The Closer" 72″ Grapple Rake
The Closer- The 72″ Grapple Rake for Skid Loaders and Midrange Tractors
The Closer is a heavy duty grapple rake with a wide opening and heavy duty tines.
FEATURES
Heavy Construction, Made In America
Wide Grapple Opening Of 65″ Can Grab More Brush And Debris Than Competitors
11 Heavy Duty Rake Tines
6″ Rake Tine Spacing
1/2″ Raking Material
Concealed, Protected Cylinders
Includes Hoses And Either Flat Faced Or Pioneer Fittings
Fully Plumbed With Hose Protection
Greasable Pivot Points
When Ordering, Please Specify Flat Faced or Pioneer Fittings
Sign Up For Mike's Monthly Newsletter
Tips and Special Offers Right To Your Mailbox Learn About Our Newest Products!
The "ORIGINAL" Double Clamshell Grapple!
If you have a mid-range tractor or skid or track loader and want a grapple that's American made and built heavy enough to do big jobs, "The Closer" 344 Grapple Rake is the best choice.
"The Closer" is specifically designed for both tractor and skid steer applications for machines with a minimum of 2000 lbs. and a maximum of 2500 lbs. lift capacity. It is built exceptionally strong for its size and the whopping 65″ opening can grab huge loads of brush and debris.
"The Closer" is available with either skid loader compatible or John Deere "hook and pin" quick attaches and comes standard with your choice of flat face or Pioneer couplers, hoses, and concealed cylinders.  For the really big jobs, call on "The Closer"
HOW TO DETERMINE WHAT HYDRAULIC COUPLERS TO ORDER
Consult the chart below to determine your hydraulic connections. There are two types generally used in tractor applications, Pioneer and Flat Face.
Pioneer couplers have either a ball, or a tip in the male portion that must be pushed back to attach.  Flat face couplers, commonly used on skid loaders, do not have any protrusions.
Each type comes in at least 3 sizes, and in order to send the right ones with your new attachment, we'll need to know what type and size are on your tractor.  We also need to know whether you have one male and one female, two male, or two female couplers.  Add This Information To The 'Order Notes' Section Of The Checkout Page.
Without this information we cannot guarantee that our attachment will connect to your tractor.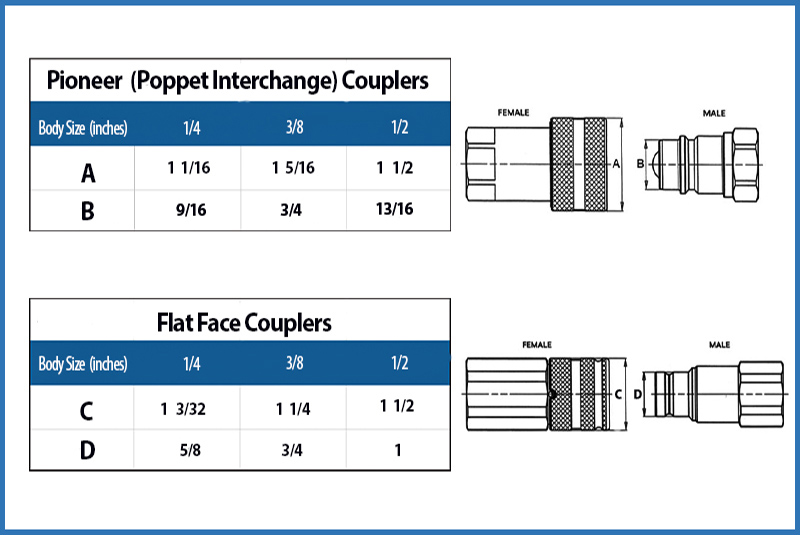 Additional information
| | |
| --- | --- |
| Weight | 862 lbs |
| Dimensions | 38 × 72 × 56 in |
| | Skid Steer Compatible, John Deere "Hook & Pin System |