---
If you've been looking at grapples for your under 40 hp tractor and they all seem to take up all of your lift capacity, the Mini 322 may be the perfect grapple rake for you. The Mini is designed for maximum strength , while providing weight relief in areas wherever possible. The unique design allows the Mini to have the durability of a much heavier rake while still being light and maneuverable for a small tractor.
Two independent separately acting grapples clamp uneven brush piles and logs aggressively. Unlike a single solid clamping system, the hydraulics of the tractor aren't trying to bend the grapple on an uneven log. You get much improved brush and log control and a longer grapple life!
The Mini's rake design allows the operator to gather loose material into a pile and the large 36" opening allows moving larger loads. The 9.5" spacing of tines allows raking of small or large material and at the same time sifting the dirt from the clumps. Each tine is reinforced for extra strength. The concealed cylinders and hydraulics are fully protected and will not snag on limbs and brush. Pivot points are greased for long lasting wear.
If you want a grapple designed specifically for the under 40hp owner to get the maximum amount of work done with the least damage to your front end loader and tractor, the Mini 322 is for you.
---
HOW TO DETERMINE WHAT HYDRAULIC COUPLERS TO ORDER
Consult the chart below to determine your hydraulic connections. There are two types generally used in tractor applications, Pioneer and Flat Face.
Pioneer couplers have either a ball, or a tip in the male portion that must be pushed back to attach. Flat face couplers, commonly used on skid loaders, do not have any protrusions.
Each type comes in at least 3 sizes, and in order to send the right ones with your new attachment, we'll need to know what type and size are on your tractor. We also need to know whether you have one male and one female, two male, or two female couplers. Add This Information To The 'Order Notes' Section Of The Checkout Page.
Without this information we cannot guarantee that our attachment will connect to your tractor.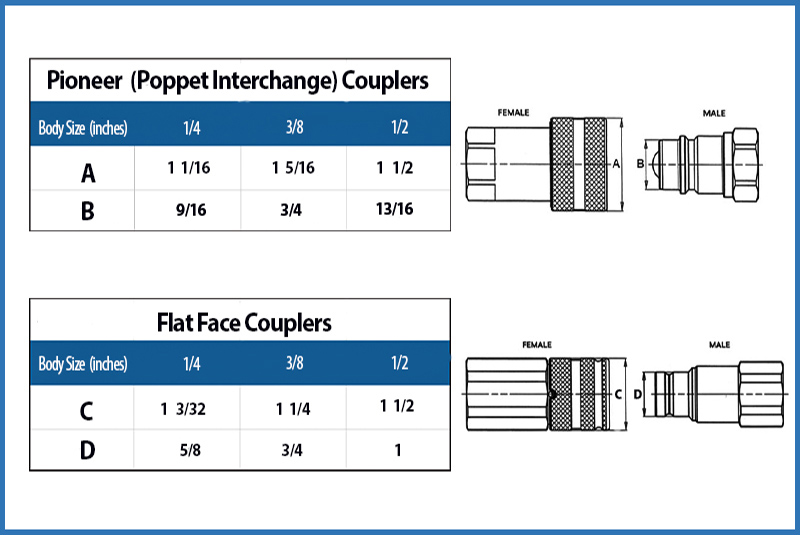 ---
This Product Requires a Front End Loader Mounted Remote Hydraulic Connections To Operate.
The "Mini" 322 Grapple Rake
Please Note: All Grapples and Grapple Rakes require up to 8-10 weeks to build and ship due to Covid-related issues. We apologize for the inconvenience and are working with the factory to reduce future lead times.
FEATURES
Strong But Light, Grapple Has Weight Relief To Be Compatible With Lift Capacities Of Small Tractors
Grapple Weighs Only About 260 Lbs.
Separate and Independent Grapple for Better Clamping of Uneven Brush Piles and Logs
36" Opening For Larger Loads
57" Width
Fully Plumbed With Quick Attach Brackets
Can Be Ordered For Either Skid-Loader Or John Deere Quick Attach Systems
Reinforced Rake Tines
1/4″ AR400 Steel on Rakes and Grapples
Recommended For Tractors Up To 40 Horsepower
Two configurations are available:
The model 322DBLSS (261 lbs) with double grapples, and universal brackets (skid loader compatible).
For Deere owners, the model 322DBLJD400 (259 lbs) features double grapples and Deere brackets.
Additional information
| | |
| --- | --- |
| Weight | N/A |
| Dimensions | N/A |
| Universal or Deere Mounts? | 322DBLSS-double grapple skid loader Q/A, 322DBLJD400-double grapple Deere Q/A |