---
---
Buckets or pallet forks can do an adequate job of moving brush piles, but most lack the ability to pick up downed limbs and debris. If you're cleaning up storm damage there'll be lots of getting on and off the tractor seat. Not so when you equip your tractor with a grapple rake. A grapple/rake design could well be the best option for getting rid of limbs and/or large brush piles without having to leave the tractor operator area.
You can not only pick up a huge load with this product, you can actually rake the ground and pile up individual limbs. The opening when the grapple is fully extended is an industry-best 54" to accommodate large debris piles; and that's important because the larger the opening the more brush you can load.
The 327 Series Grapple Rake is specifically designed for 40-70 hp compact and mid-range tractors where weight may be a consideration. It's built rugged enough to move a lot of debris, but not so heavy that it takes up all of the lift capacity of the tractor. When selecting a grapple brush rake for tractor, use this as a guide: the weight of the unit itself should never exceed 50% of the lift capacity of the front end loader.
Rake teeth on the 327 Grapple are reinforced with tine supports for added strength. Cylinders, a hose kit, and couplers are standard, as are double grapples. The 327 Grapple Rake comes with its own built-in parking stand making hooking and unhooking very easy. It takes up minimal space in a machine shed, and that's a very huge advantage over grapples with long forks.
---
HOW TO DETERMINE WHAT HYDRAULIC COUPLERS TO ORDER
Consult the chart below to determine your hydraulic connections. There are two types generally used in tractor applications, Pioneer and Flat Face.
Pioneer couplers have either a ball, or a tip in the male portion that must be pushed back to attach.  Flat face couplers, commonly used on skid loaders, do not have any protrusions.
Each type comes in at least 3 sizes, and in order to send the right ones with your new attachment, we'll need to know what type and size are on your tractor.  We also need to know whether you have one male and one female, two male, or two female couplers.  Add This Information To The 'Order Notes' Section Of The Checkout Page.
Without this information we cannot guarantee that our attachment will connect to your tractor.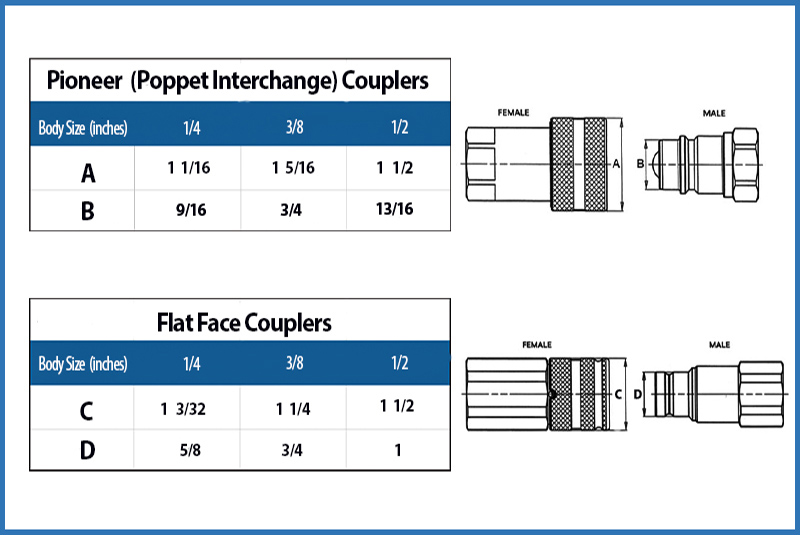 "Big Mouth" Double Grapple Rake for 40-70 hp Tractors
Please Note: Many of the Mini Grapple Rakes may require as long as 60 days or more to build and ship due to supply chain issues. We apologize for the inconvenience and are working with the factory to reduce future lead times.
Features Included on This Tractor Grapple:
54″ Grapple Opening
Includes Two Supply Lines & Couplers
91.5″ Hoses Included
9 Rake Tines
7-10″ Spacing of Tines
Made of 3/8″ AR400 Steel
Parking Stand Built-in for Easy Storage
HOSES AND HYDRAULIC FITTINGS  INCLUDED ON THIS MODEL.
This grapple rake is compatible with 40 hp – 70 hp tractors with either skid loader compatible loaders or those with 400-500 series John Deere lynch pin attach systems.
Be Sure To Specify The Correct Quick Attach System When Ordering!  This Attachment Is Not Available For Pin-On Buckets!
All products have been carefully manufactured and tested. Should this root grapple prove defective, or appear to be, please discontinue use immediately and contact us. Not responsible for any damage or claims beyond the selling price of this grapple bucket for tractor. No returns allowed without express written consent of company.
Need More Info on This Product? Fill Out the Form Below and We'll Get Back to You Soon.
Additional information
| | |
| --- | --- |
| Weight | N/A |
| Dimensions | N/A |
| 63" or 72"? | 63" Wide, 72" Wide |
| Skid Steer or JD Quick Attach? | Skid Loader Compatible, John Deere Hook and Pin |