Tractor Loader Cylinder Safety Stops
Are Worth Every Penny!
Tractor loader cylinder safety stops are a terrific safety device, are easy to install, and worth the modest investment.
If you've watched my videos for a while, you'll know safety's always a big concern here at At Tractor Mike.
Servicing a tractor is always a bit of a safety hazard, because when you're working on the engine area of a tractor, the loader is in the way. Cylinder stops provide a mechanical solution for keeping the arms safely in the air. In fact, five years ago I made a video showing you how to create a jerry-rigged set of tractor cylinder stop tubes using baling wire and angle irons. And yes, they worked. (I've added the video to this page so you can see the convenience of using a premade hydraulic cylinder safety lock  instead.)
I was really happy to find these hydraulic cylinder stops, because they keep you safe and make servicing your tractor engine much easier. They're a "must have" for the tractor DIY'er.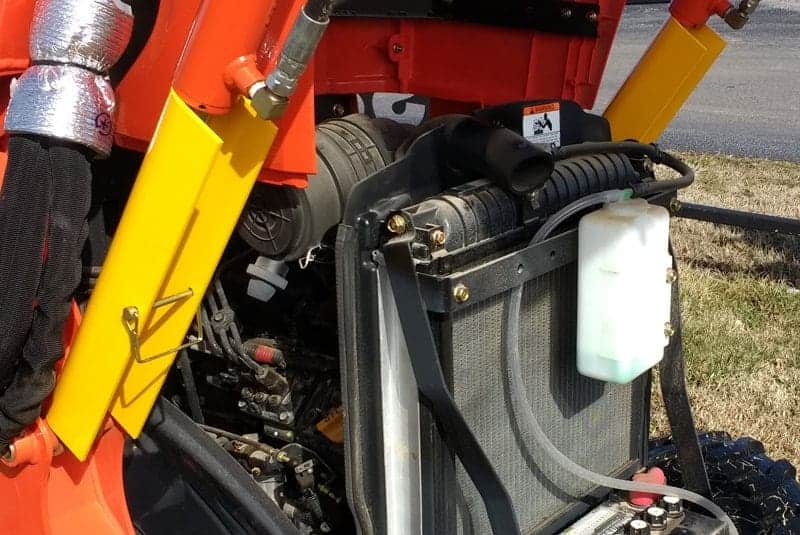 Easy Installation
Another benefit of these stops is that they can be installed in just a few minutes. To install them, you first lift the loader all the way to the top of its travel by running the joystick until the cylinders are fully extended. (If you're working inside, check for clearance first.)
Once you're sure the cylinders are fully extended, simply insert each hydraulic cylinder stop tube and pin to secure them in place. After that, ease the loader arms down until they're just touching the stops. Now you can work safely on your tractor engine.
Note, though, that you also need to remove your front loader attachments before servicing the tractor. Unfortunately, these stops won't prevent attachments from coming down in the event of mechanical failure, if the joystick/hydraulic controls are accidentally bumped, or you have an unexpected hydraulic leak.
Heavy Duty and Available In Several Sizes
These tractor loader cylinder stops are made of heavy 7 gauge metal, and are powder coated yellow. They come in three sizes, because not all loader cylinder rams are the same length. We offer them in 15″ length, which fit most sub-compact tractors, 17″ for many compact and utility tractors, and 20″ which fit some compact and many utility tractors. Measure your cylinders when fully extended from the top of the barrel to the point where the ram is not circular around the circumference. Order a set of stops just under that length.
The price includes a pair of stops, the safety wire snap locking pins, and the shipping, as well.
And While We're Talking Safety….
Another really good safety product we carry is the Roll Bar LED light. Add this magnet-attached light to your roll bar and give yourself more than enough light to stay out on your tractor after dark when you need to.
And if you need more hydraulic ports at the front of the tractor to run some of your front loader implements, take a look at the hydraulic diverter valve we carry. It lets you add the big implements that run on hydraulics, giving your tractor an even greater range of uses.