Ten Tools To Enhance The Tractor Owner Experience
Now that I've discussed ten tools that are essential for owning a tractor, here's ten optional tools that will enhance your equipment owning experience. While it's true that you don't absolutely have to use these tools, I know from experience that they can make owning and working on a tractor a much more pleasant experience.
(If you missed the Ten Essential Tools info, you can view the video and read the blog here. )
Mechanic's Creeper
The older I get, the less concrete and my bones get along. So when doing service work I like to get underneath the tractor with a minimal amount of effort. I spent the money for a product that can be a creeper, a chair, or a stool, like this one.  and wouldn't be without it. I keep it in the stool position more than the creeper position, which surprises me.
Radiator Genie
Radiator Genie comes with both an air and water wand, and is designed for getting debris out of a tractor radiator. That can be a big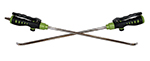 problem, especially when bush hogging and the suction of the tractor's fan pulls weed, seeds and dirt into your radiator. If you don't keep it clean, your engine will overheat. Radiator Genie is designed to get in tight places and push compressed air or a jet of water back through the fins to clean it out. Best tool I've found for that task. Take a look at one here.
Multi-Meter
This tool is essential for diagnosing electrical issues. I'd never owned one until a year or two ago when I was trying to determine why the two-speed on my hydro wasn't working. Now I'm surprised by how much I use it. If you're troubleshooting an electrical problem, you can't be without one of these. The Fluke 110 Plus that I own is available here on my Amazon Influencer site.
Heat Gun (Heat Thermometer)
If you hear noises coming from your equipment, a heat gun can help you pinpoint the issue. I had a bearing making noise on my zero-turn this year and was able to find the source of the sound: one bearing was 20 degrees hotter than all the others. You don't want something like that to ignite grass clippings, so finding the source of noises can save a lot of money in repair later. Here's one to review.
Level
Anyone who does a bit of carpentry work will have one of these, and if you don't, consider buying one. I keep mine in my  tractor toolbox so I can make sure the brush hog is level before I go to the pasture. I can tell you from experience:  You don't want to cut several rounds with the cutter higher on one side than the other because it looks like a bad haircut. Having a level handy will help you get started right. Make sure you not only level side-to-side, but also front to back. You want a slight rake forward, so the cut material can get out the back.
Cylinder Stops
Working on a tractor with a front-end loader is so much easier with the loader raised up and out of the way. Take your bucket off, lift the loader to its highest position, and put a set of these cylinder stops in to keep it safely up in the air. It makes tractor service a breeze.
Suction Gun
You'll need one when draining fuel out of a tank that's mounted on the tractor, or when draining oil from most gear boxes on brush hogs. Get a good suction device and those jobs become much less time consuming.
Impact Wrench
Although I don't have one of these yet, I have a buddy who works with an electrical, corded impact model, and I plan to get one. I thought I wanted a battery impact model, but I hate it when batteries die.  With an electric impact, it's always ready to use. It's on my birthday/Christmas list this year. Battery impacts are great for mobile work, air impacts and corded electrical impacts are critical for working in the shop.
Roll Pin Punches
I've only found one thing a set of roll pin punches is good for, but it's a biggie. Most tailwheels on brush hogs are held in place by a roll pin with a washer. To remove it, you'll need these punches. Hammer on it and the end flattens out and expands and you have a problem.
Lynch Pins
They're not really a tool, but when you buy your first tractor, go out and get a bunch of lynch pins. I'm always losing them and am perpetually short. You'll need them anytime you hook up an implement, and having spares will prevent having to make a bolt (or a nail) work, which creates an unsafe situation.