Quick Attach Conversion Kits Save Time and Work
If you spend any time perusing my Tractor Fun Store, you'll notice that I've added a deep line of quick attach conversion kits. I am really excited about them, because they are probably among the biggest time-saving inventions you can find for your tractor.
Skid steer loaders, compact track loaders, compact tractors and mini excavators are very popular pieces of equipment because they can use a wide range of different attachments for all sorts of jobs. The bucket – a basic scoop for picking up and hauling most loose materials – is the standard attachment.
But as you work with your machine, you may fine you need more attachments for your chores, like pallet forks, grapple buckets, or tree shears, for example. And the best way to add these attachments is with a quick attach conversion kit. You'll find that attachments are almost all interchangeable among the different brands and models of machines in your shed, if you've got quick attach conversion kits for your equipment.
Quick Attach Buckets Are the Way to Go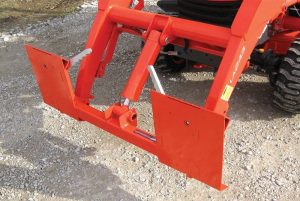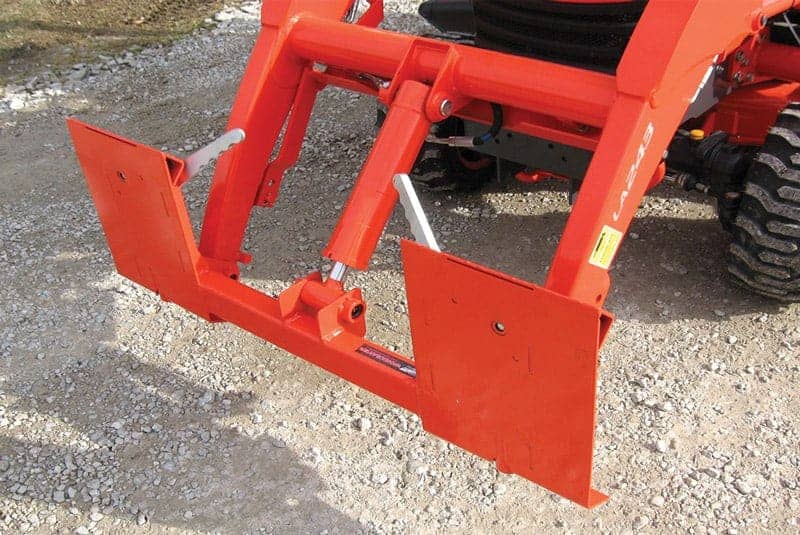 The loader, or front end loader, is what we call the lifting device that goes on the front end of the tractor. On the other hand, the bucket is the attachment that goes on the front of the loader, and is used to haul material.
It's true that some machines have a quick attach loader which you can removed via joystick and hydraulics, and taking it off is pretty easy. Getting it back on is considerably more challenging. If you've had to do it even once, you may really not want to do it again.
And if you've got a compact tractor or skid loader with front end loader already in place, it probably has a "pin-on" bucket attachment setup. That means you're spending lots of time getting attachments on and off when you'd rather be out in the field, getting your work done.
By adding a quick attach loader conversion kit to your machine, you can now mount any attachment that would normally mount on a skid loader right onto the tractor. Easily switch between buckets, forks, blades and more.
The kit includes a new face plate that needs to be welded onto to the existing pin-on plate. The plate is heavy-duty and sturdy, able to tolerate all sorts of weather and tough environments, and designed to last for years. Once it's installed, you can effortlessly switch front end attachments, or remove them if they're in the way.
Choosing the Right Kit
More On Quick Attach Kits Here
It can get a bit confusing at first, because there are three different configurations of the quick attach bucket. One system, the skid loader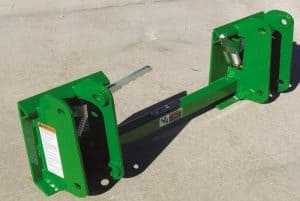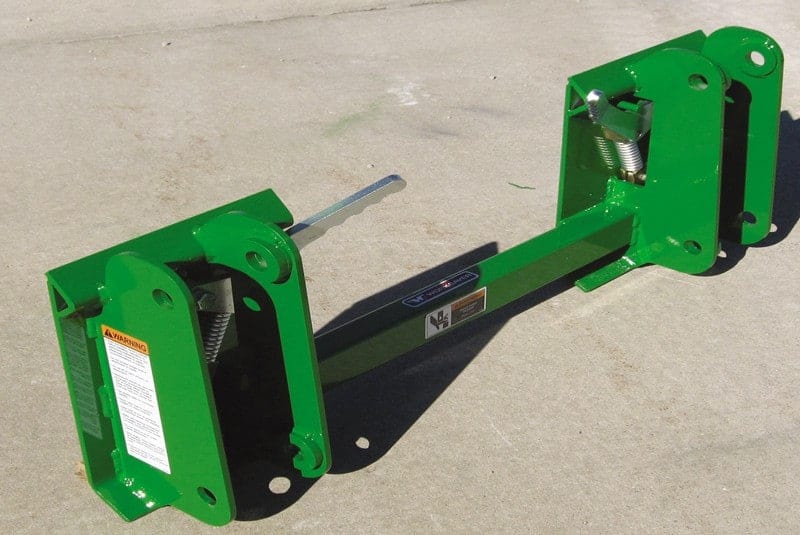 style, was designed to fit Kubota, New Holland, Kioti, Massey Ferguson, Mahindra, Yanmar, TYM, Branson, Case, and LS. With this system you can add any attachments that are generally used on a skid loader.
John Deere has their own system, which is actually simpler than the skid load system, but works only on Deere equipment.
Large tractors are generally fit with a "Euro" quick attach.