Attaching Implements Is Now An Easy Task
All you  need is Pat's Easy Change Quick Hitch.
Are you looking for the magic formula to make hooking up 3-point implements easier? You're not alone.
Let me tell you the story of my neighbor Chuck and Pat's 3-point quick  hitch.
Chuck and I talk tractors a lot. He said one day that he doesn't like how much time it takes when he goes to put on any of his implements. He was looking for a quick attach hitch, but said the standard quick attach just wasn't do the job.
Well, then we did a video with a quick hitch where we attempted to put one on his tractor.  But the problem was that implements come in different widths, and the standard quick hitch didn't fit all of his implements. That's a pretty common problem.  Now, a lot of folks who saw that video wrote in to say we should try Pat's Quick Hitch.
Take A Look At Pat's Easy Change Here
Pat's Is a Winner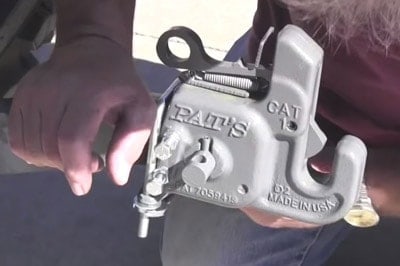 Well, that's one I hadn't heard of before, but when I looked it up, Pat's easy change system looked pretty good to me. And Chuck thought it looked like a winner. It's a couple of claws – I'd call it a kind of eagle claw system- that pick up the implement at the top link. You back up under the pins on your attachment, lift up the three points and you're hooked on.
The only disadvantage of this product is that you have to get off the seat to put the top link on. But with a PTO-powered implement, you'll have to do that anyway. When you want to unhook, just move the keepers to the side, pull up up the links and lower your 3-point.  It's pretty simple.
We ordered it up, along with an optional stabilizer bar that goes across the top, and Chuck saw right away that it would allow him to adjust for the different implement widths. The hitch comes with two sets of spacer shims (one thick, one thin) and once you choose your shim, there's a roll pin that has go through it to make it fit. We attached the hitch and leveled it up, and added a couple U-bolts and nuts to lock it all on.
Chuck Is Happy, and You Will Be, Too
Chuck was really happy. We figured that it was simple and easy to put on, and if even someone didn't know what they were doing, it might take less than 30 minutes. Even less with two people working on Pats quick hitch together.
I like Pat's easy hitch enough to sell it here on my website. It's American made of quality hot rolled steel, and comes with the set screws, u-bolts and shims. The spring-loaded latch system is the only one like it on the market and it fits any tractor lift arm system from 18-120 HP.