Folks who watch my videos often write to me with questions.
Lately I've been getting lots of letters and emails from people looking to buy tractors and wanting shopping advice.
Several  commonly asked questions were related, so I'm going to answer all of them in this blog post. People were wondering what to do if they bought a tractor they ended up disliking. They also asked how much a late model tractor with low hours is worth. And if they were buying a used machine, viewers wanted to know how they could find the value of a tractor. Here are the answers.
What Happens If I Hate My New Tractor?
A viewer, Jerry, said he was looking for a 40 horsepower tractor and had decided on the brand and model.  But his local dealer didn't have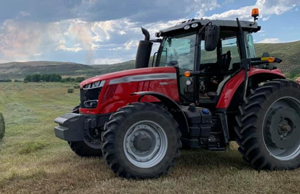 one in stock; in fact he already had sold three of the same tractors and was waiting to get them delivered. So the dealer tried to sell him on a 26 horsepower he did have in stock, but Jerry wasn't thrilled with either the size or the transmission. To push the sale, the dealer offered a good price with a nice low rate program. But, Jerry asked, what happens if he buys it and finds out he hates it?
These days, we're all accustomed to being able to buy something, have it delivered to us, and  if we decide we don't like the product,  returning it. And it's all good, right?
But I I had to tell Jerry that in his situation, bad things happen because the tractor market is different.
You Buy It, It's Yours
In the tractor business, once you buy something – especially when you finance it with a low rate program – it's yours. That transaction cannot be voided easily. So if you buy a tractor and it's too small or has the wrong transmission and you really don't like it, all you can do is trade it in.
Now, here's where it gets sticky. When the dealer trades for your tractor, he's got to be able to sell it at significantly below what you paid. And it's a used machine, no matter how few hours on it. (It's considered used because the original owner had the registered warranty.) If the price is close to the cost of a new one, the buyer may well buy a new one instead, and you trade-on just sits and sits on the lot.
Additionally, a new buyer is not able to assume your payment. In all my years in the dealership, I never saw any financing program that let somebody else take it over and pay the remainder of the low rate program. The financing program starts all over again and low rate programs are not available for used machines.
How Are Used Tractor Valued?
Generally, the rule of thumb at the dealership was that on the day you take delivery of your new tractor you've already lost 30% of the value.
So let's say the dealer made 15% margin on your tractor sale, pretty much the current ballpark profit amount for most dealers.
If you originally paid $30,000 for that tractor and it's immediately down 15% in value, you've already eaten a loss of $4,500. And as it turns out, 15% below original price is about where a dealer can sell it to somebody else. But the dealer still wants to clear his 15% on a sale – basically trading at wholesale and reselling at retail.
In that case, the dealer is going to offer you 15% below your already discounted tractor value, and suggest $21,000. That means you're going to take a $9,000 hit on the deal. Sure, he could he could fudge on the 15% profit any maybe give you a little bit of that back, but it's still going to cost you a lot of money to change your mind.
Remember when you're buying a big ticket item like this (or even a brush hog or any other kind of attachment) that the warranty clock is ticking away while you're changing your mind. And if you've and financed at low rates, you're pretty much out of reasonable options.
Get It Right Before Heading To the Dealership
It should be obvious here that it's really important you get the right machine the first time, and I can help you with this. I wrote a book a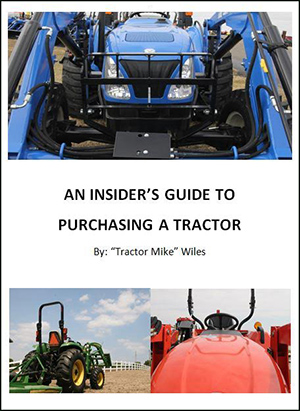 few years ago called An Insider's Guide to Purchasing a Tractor.
It's downloadable and only $29.95, but I'll happily refund that amount if you buy a major item from my website later on. Technically, you get the book for free if you agree to become a customer later on down the road. (Of course, that's what I want.) But a lot of the Guide's information is also in my videos, including how to buy a first tractor and how to negotiate with a dealer. The Guide, which covers a whole range of information about first tractor purchases, is meant to help you do it right and save yourself headaches and a pain in the pocket.
Tractor Inventory is Short in the Summer of 2021
While we are hoping it will improve in the coming months and year, we don't know exactly when limited tractor inventory will turn around. When it does, it will be fairly rapid, and there will be lots of tractors coming into this country. My years in the equipment business were often inventory feast or famine: sometimes the stock all seemed to come in overnight. So if you that aren't finding exactly what you want, see if you can put it off just a little bit longer to get the tractor you'll enjoy having for years to come.
How to Find Actual Used Tractor Values
Not long ago I made a video about this this topic. A viewer named Claude wrote to say he had found a late 2012 model with only 33 hours on it. I asked my viewers to weigh in if they would take a chance on a purchase like that. A lot of folks said yes, and it looks like Claude's going to buy it. Claude wanted to know what I thought this tractor was worth.
I think he's probably going to get a whale of a deal because that machine has such low hours. On the other hand, 2012 was a while back and that tractor has been sitting around for quite a while.
So how can you figure out the value of a used tractor? I get asked all the time if there a Kelley Blue Book or Edmunds.com or other online service that lists the values of used tractors or equipment. And the answer to that is yes. But you've got to know where to look for it. Let me explain.
There's a website called tractorhouse.com where local dealers advertise used equipment. Anyone can open the site and look at the items dealers are selling. But don't just look at selling prices: the menu lets you browse auctions and see auction results. You can browse by tractor models. These prices are wholesale, and buyers are most often going to recondition the tractor and resell at retail. That's the real information you want.
This Info Helps You Know the Value of Your Tractor
Once a dealer has picked up a tractor at auction, he'll probably need to add $200-300 for reconditioning, plus covering any damage or parts that have to be replaced. Then they'll add anywhere from 15 to 30% on top of that to reach the price they'll quote a retail customer. When you have a good idea of what a fair price was at auction value,  you'll have found yourself some negotiating room. And if the dealer didn't put much money into the machine before putting it out on the lot, he's got a lot of room to play with. This background information helps you negotiate a fair deal.
Now, if I'm a dealer and find a tractor with the low mileage and in the great condition Claude mentioned, I'm definitely not going to auction it off and lose money. Instead, I'm going to put a high price on it and not budge very much when negotiating with the final buyer. And good late model tractors are going to bring a premium; they will probably bring more than you think. Of course, if it's rough and has some damage it will bring less. Armed with all this pricing knowledge, you can determine if the dealer price is reasonable and if you are ready to make your purchase. But don't just buy on price: Be sure it's the tractor you really want to own.