Getting Comfortable With the Brush Hog
Most people buying a tractor get some form of three point cutter with it for brush hogging. And yes, they are a little intimidated the first time they use it. Usually it is called a brush hog (or Bush Hog, but that's a brand name).  In the U.K.  it's a "topper." It's a "slasher" if you're in Australia. But regardless of what it's called, it's a rough cut rotary cutter to clip pastures. Today we'll discuss how to operate a brush hog. Then, I offer ten tips to make that first run across the field a pleasant experience.
Before we start, let's make sure the tractor and cutter are field ready. On the brush hog: check the gearbox oil, grease it, level it and check the blade area to make sure nothing's wrapped up around there. On the tractor: check the inflation of the back tires (so the cut is even). Make sure the radiator is clean and debris-free, because we're going to give the tractor a little workout when cutting.
To brush hog, all you do is engage the PTO.  It may be button or lever activated if fully independent. On certain tractors, however, you may have to push the clutch down and move a lever, then gradually let up on the clutch. You want to be between 1200 and 1600 RPM's when turning the PTO on. Then all you do is drive!
Having said that, there are ten practices I'd recommend to make your first trip across the field uneventful. These can also apply if you're an experienced operator.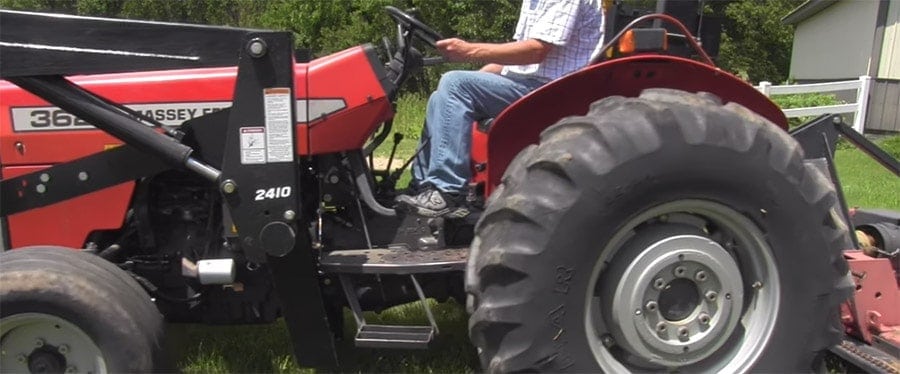 Ten Tips For Easier and Safer Brush Hogging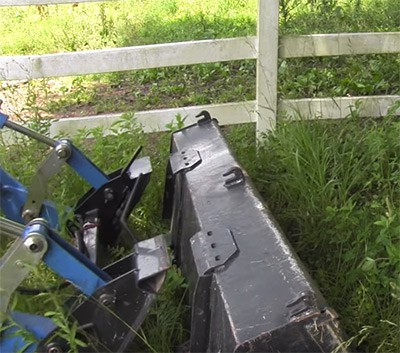 1.If you have a quick attach bucket, take it off. Those things stick out and can hit posts, trees, etc. Drop it in the weeds and you don't have to worry about it.
2. Drive slow until you get comfortable. Low gear in hydro, low range on a gear-drive tractor. Take it easy until you get a feel for what you're doing.
3. Watch for obstructions. That can include objects hidden in the weeds, but also watch where your roll bar goes. Low limbs or utility wires can encounter the ROPs structure and create an extremely dangerous situation.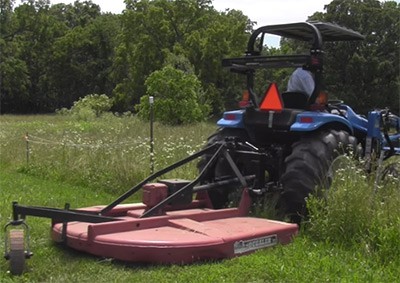 4.  Start in low grass if you can. I never like to engage the PTO where it starts out cutting. If you can kick in the PTO in an area you've already mowed and drive into the weeds. It's easier on the tractor, cutter, and you.
5.  Watch the tractor temperature gauge. When brush hogging mature weeds, the seeds can shatter and your fan may suck them right into the radiator. If the gauge is moving toward the red area, stop and clean the radiator out.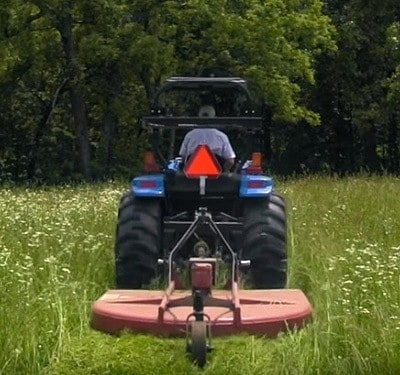 6.  Get sun protection. You can cook yourself pretty quickly in the sun brush hogging for hours on end. I recommend the Rhinohide canopy (available here: https://asktractormike.com/products-for-sale/) because it's really tough. And you can take it off when you go back into the woods to cut a trail.
7. Keep people and pets away from where you're brush hogging. Blades on a cutter run up to 18,000 feet per minute. When they encounter something in the field, they can throw it an amazing distance in all directions. Don't let anyone around you when you're running a rotary cutter!
8. Start mowing back and forth in the center of the field. Bush hogs generally stick out on both sides of the tractor. Until you get a feel for that, don't try to move up next to trees and fences.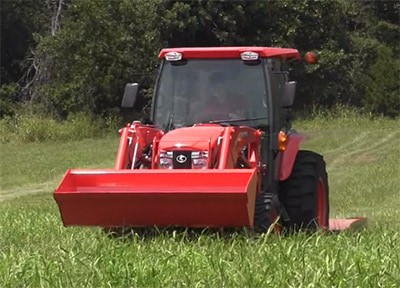 9. Avoid draws, or valleys. Going through a dip in the field can put your equipment in a bind and mess up a PTO shaft (if you're lucky). It could also damage the cutter gear box or the tractor PTO housing. Those are all expensive fixes that you don't need.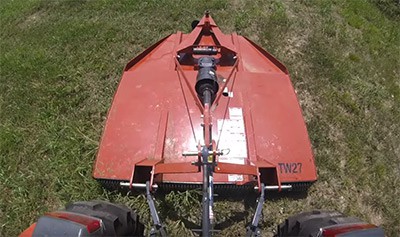 10.  Finally, watch your butt or the back of your cutter. When turning, the rear of the brush hog will swing around really fast.  That means you have to be real careful it doesn't contact anything. It sticks out more than you think it does when you're a new operator.
It's tremendously satisfying to look back and see the newly-groomed field when you're done brush hogging. Do it a few times, get comfortable with the equipment and the process, and it will be a less daunting task.