Seven Reasons to Winterize Your 3 Point Hitch Spray
Like all your expensive farm equipment, your three point hitch sprayer needs to be maintained so it is ready to work when you are. And, of course, proper routine maintenance means your sprayer will last longer. You'll avoid the cracking and other problems that happen when a sprayer hasn't been prepped to handle winter's ice and freezing temperatures.
1. Prevent Cracking and other Defects
Think it's okay to not winterize your Eunduraplas Land Champ sprayer?  Then be prepared for a pump that cracks or shows other defects,
since cracking is one of most common consequences of neglecting winterization protocols. Start by flushing the system.  And then make sure your sprayer parts are completely dry and free of liquid going into the cold months. You can also rub a small amount of oil, or antifreeze with rust inhibitor, to your sprayer parts to help keep them from cracking.
You may also help avoid cracking by applying a small amount of oil or antifreeze with rust inhibitor to your sprayer.
2. Keep Insects and Small Animals Out of the Sprayer
It's pretty simple to repel insects, birds, and others. Just cover any openings in your sprayer. This will also keep out dirt and debris, and help to ensure that your sprayer is clean and ready when spring comes.
3. Help Your Sprayer Work at Full Capacity
Always winterize before the temperatures turn frigid. If you have a 3 point sprayer for a compact tractor and it becomes damaged and needs replacement parts, you may find your have planting delays when spring arrives. And a damaged sprayer may result in herbicide misapplications, including inconsistent applications. Winterizing the sprayer in late fall means an easier spring.
4. Indoor Storage Keeps Hoses In Better Shape
When you overwinter your sprayer in a safe area and out of the elements, you'll add another layer of protection. Unfortunately, prolonged exposure to sunlight can compromise the condition of the hoses. And rust and corrosion are always a threat when the sprayer is exposed to moisture over the winter months.
5. Save Time In the Spring
Careful winterization means less time and fewer maintenance issues when it's time to use the sprayer again. And that means less downtime while waiting for parts, repairs and equipment inspections. Getting back in the field early in the spring helps you achieve maximum productivity
6. Save Money on Repairs and Parts
It's a no-brainer. A few hours in the fall and a well-winterized sprayer means fewer costly repairs and replacement parts in the spring. Your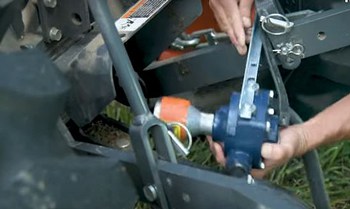 sprayer will last longer, look better, and be more reliable when your resume your regular operations.
7. Keep Your Trade-In or Sale Value High
It's a good idea to document what you do to winterize your sprayer. Not only will the maintenance work itself ensure the quality of your equipment, but proof of maintenance may well be helpful when negotiating the sales price or trade-in value.