Do I Need to Spray My Fenceline?
Fenceline spraying seems to be a debatable issue.
There are some who say it's essential. These folks are concerned that when tall weeds and grass touch an electric fence it can cause a drain. They also point to the fact that the constant charge will cause a burned place in the vegetation after a while. The folks who spray their fencelines also think all the tall plants along the fence look pretty sloppy. And if the fenceline is cleared, they add, you have plenty of room to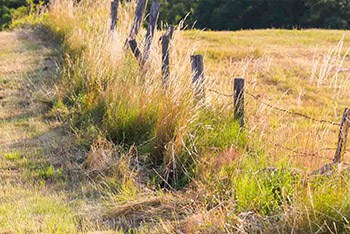 easily get in and work on your fence when it needs repair.
On the other side of debate are the people who say simply that spraying a fenceline is a bother and not worth the time. A weedy fenceline is not a big deal, and you can certainly manage to get in and make repairs even with weeds.
On the whole, though, it seems to me that spraying your fencelines is pretty important. There are, however, a couple of things to keep in mind.
What to Check for When Spraying Fencelines
First of all, you need to use the right chemical. With electric fencing, RoundUp® is your best choice because it will keep anything from growing under the fence itself. It may, however, cause any metal poles to rust. If you have non-electric fencing, try other chemicals that suit the crops you're growing. The wrong chemical can affect crop growth, so what you apply under your fence should match what you use in the field.
Best Spraying Practices
No matter what chemical you are using, you need to make sure you are using your  3 point hitch sprayer to your best advantage.
It may seem like an obvious thing to say, but avoid the temptation to get the job done as quickly as possible on windy days. Wind means you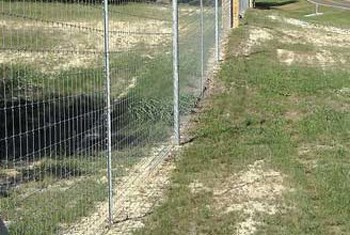 run the risk of having chemical blowing on your face or in your eyes. Plus you don't want the spray blowing onto your sensitive crops where it might harm them.
It's also a good idea to use a 3 point boomless sprayer when spraying your fenceline. Boomless spraying is accurate. and the nozzles allow you to closely travel the fence line and apply a good amount of chemical to the fence rows. Boomless nozzles provide great coverage, as they can spray up to 15'.  It's also very easy: just switch on your pump and get to work.
A lot of farmers use different chemicals when spraying weeds and then spraying their crop. Your sprayer needs to be emptied of the first chemical and cleaned before you pour in the second one.
No matter whether you are using a 200 gallon chemical tractor sprayer, or a smaller 3 point sprayer, you need to have a sprayer that's easy to drain and clean, so you can rinse without mixing the chemicals.
Want to learn more about Enduraplas Land Champ Sprayers? If you're in the market for a new tractor sprayer, this product is the best 3 point sprayer available today.
See the 200 gallon model here; the 100 gallon model here, and the 50 gallon model here.