A post hole digger is an absolute must if you have a tractor, especially if you live in a rocky area like I do. A post hole digger is also called a "post auger" or just "auger."
I use mine a lot for fence repair, planting trees and burying dead animals. It's hard to dig a hole by hand where I live, so having a 3 point post hole digger that is PTO driven is a real labor saver.
Now, I grew up on an orchard, and I learned that if you have to plant a lot of trees, this is the tool to own.  My father and I had a mild disagreement about whether to buy a  hole digger or not. He always dug all the tree holes by hand, believing it was easier for the roots to expand when planted that way.
One year when we had 144 trees that needed to be planted, he had a medical situation. I bought a post hole digger (the one in my video) and from that point forward, every tree planted was done using that attachment. The post hole digger for the tractor is truly one of my favorite implements.
See the 300 Post Hole Digger for Subcompacts
See the 500 Post Hole Digger for Compacts
Post Hole Digger Size Options
If you're buying a post hole digger, there are a few options to think about.
First, you'll want to decide how large an auger to get. Honestly, I recommend getting more than one.
Most common, at least in my area, is a 12″ auger, and I own both that size and a 9″ auger for smaller jobs. A 12″ auger is great for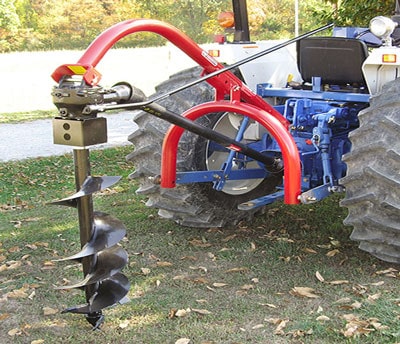 planting a tree because most bare rooted or "balled and burlapped" trees require a big hole. A 9″ auger works well for most fence building, while pipe fences may only require a 6″ auger. You want the auger to be only slightly bigger than the post, so you have less filling in and compacting to do.
The Value of a Positioning Rod
A positioning rod is a very handy option because as the auger is dropped to the ground, the tip moves backwards, around the radius of the three point. That makes it really hard to get the tip right where you want it.  A positioning rod goes from the top of the gearbox to the tractor seat, and allows you to pinpoint where the auger tip goes in the ground.
And Add Hydraulic Down Pressure
Another option is hydraulic down pressure.  A lot of folks don't realize this: Your three point has hydraulic lift, but all that pushes it down is gravity (except on a very few older IH tractors). In tough digging, the auger could just turn on top of the ground. Added hydraulic down pressure may help get it started and help you successfully dig the hole. Keep in mind, though, that hydraulic down pressure requires remote hydraulic connections on the back of the tractor, something many compact tractor don't have.
Post Hole Diggers are Low Maintenance
The only maintenance to a PHD is to check the gearbox oil and grease the PTO.  If you buy an older digger and it won't go in the ground, it may have a dull point or tip.  Most of these are replaceable, so slap a replacement tip in it and it may dig like a new machine.
If you have a subcompact tractor, be sure to check how wide the three point arms open and how high it will lift before buying a standard post auger.  Most of the subcompacts require a special post hole digger with a narrower frame and shorter auger to work properly.
If you own a compact tractor and would like a good intermediate post hole digger with positioning rod standard, check out the Worksaver Model 500.
Subcompact owners, for you the Worksaver Model 300 is a great choice.